The scheme of voluntary fundraising regulation in England, Wales and Northern Ireland – delivered by the Fundraising Regulator – is mostly funded through a voluntary levy on charitable fundraising organisations which spend £100,000 or more each year on their fundraising activities. 
See our who we regulate page for more information about how our regulation applies in Scotland.
Funding our regulation
Regulation can only be effective if it is adequately funded. The levy enables us to protect the public and support the charitable fundraising sector by:
Sharing costs to protect the sector
The cost of the levy is shared among the charitable organisations that carry out the most fundraising activity, for the benefit of the entire fundraising sector. Collectively the UK's largest organisations that are eligible to pay the levy spend close to an estimated £2 billion to carry out their fundraising activities. To put the cost of regulation into perspective, the levy represents 0.1% of overall fundraising expenditure.
Calculating fees
Some organisations may spend more or less on fundraising than the previous year. We regularly assess charity accounts to make sure that each organisation is contributing the right amount, based on its reported fundraising expenditure.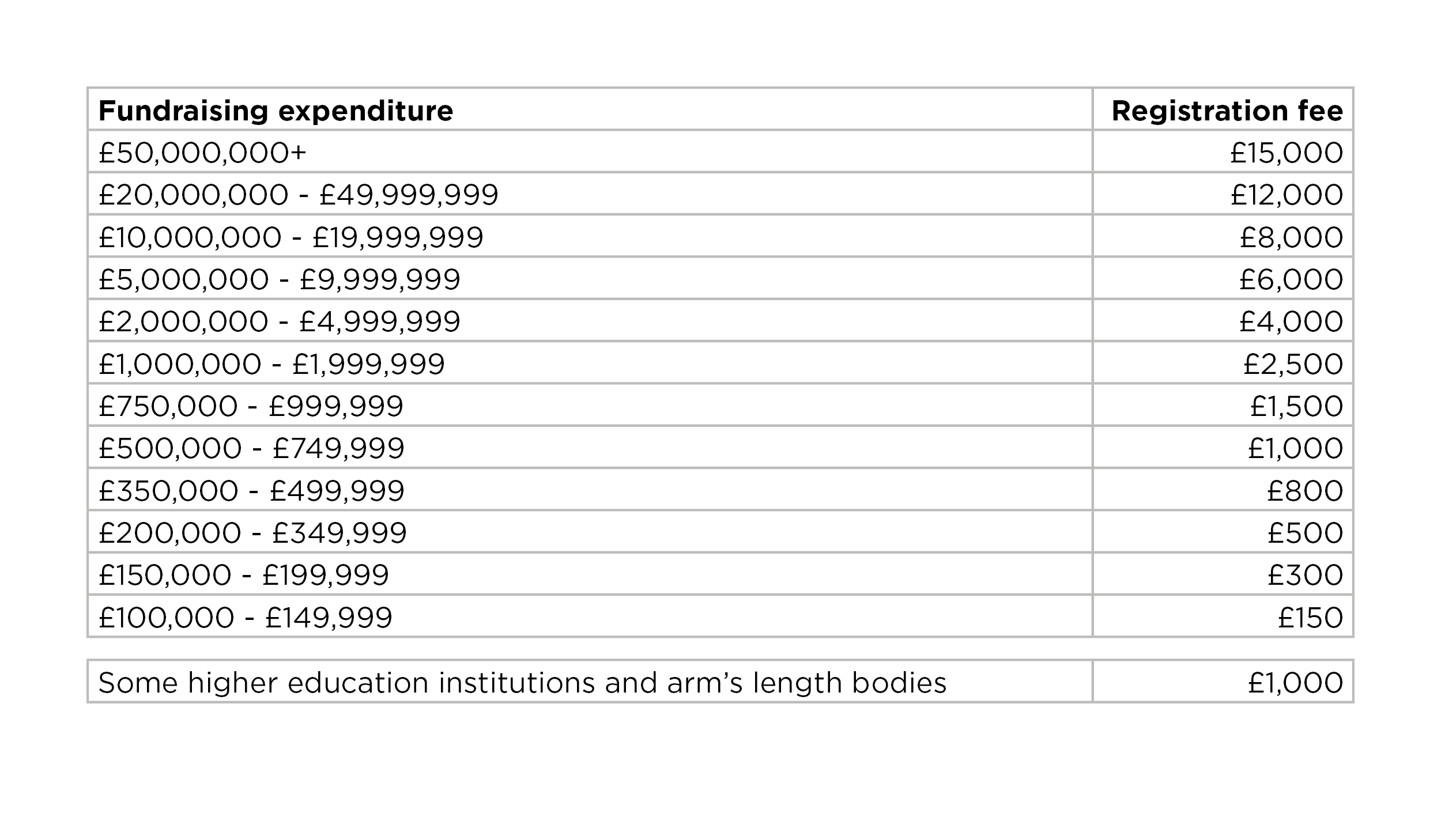 Fundraising expenditure / Registration fee
£50 million + / £15,000
£20 million / £12,000
£10 million / £8,000
£5 million / £6,000
£2 million / £4,000
£1 million / £2,500
£750,000 / £1,500
£500,000 / £1,000
£350,000 / £800
£200,000 / £500
£150,000 / £300
£100,000 / £150
Some higher education institutions and arm's length bodies / £1,000
See our registration fee page for more information about how we define fundraising expenditure and our fee bands.
Reasons to register
By paying the levy, your organisation is registering with the Fundraising Regulator. This means you can show people that you are committed to fundraising in a way that is legal, open, honest and respectful in line with the Code of Fundraising Practice. 
All registered organisations can display the Fundraising Badge on their fundraising materials – the logo that says 'registered with Fundraising Regulator' – and are listed in our public directory. Charities that are eligible to pay the levy and choose not to demonstrate their commitment to good fundraising lose the benefits of registration, such as the ability to display the badge, and will be identified in our directory.
Find out more reasons to register with the Fundraising Regulator.