If you're a registered charity in England, Wales or Northern Ireland with fundraising costs of £100,000 or more, you will need to pay our annual levy to register. The levy is a voluntary contribution to support the cost of our work.
There are many good reasons for paying the levy.
Charities that pay the levy are demonstrating their commitment to the Code of Fundraising Practice and the Fundraising Promise. They are also agreeing to our terms and conditions.
Charities that fall within the levy that choose not to demonstrate their commitment to good fundraising will be identified in our directory.
The levy is based on your reported fundraising expenditure. We define fundraising expenditure as the costs incurred by a charity when individuals or third parties make contributions to it for its charitable purposes, and any other costs related to charitable fundraising. Read the full definition here.
There are different bands according to the amount spent: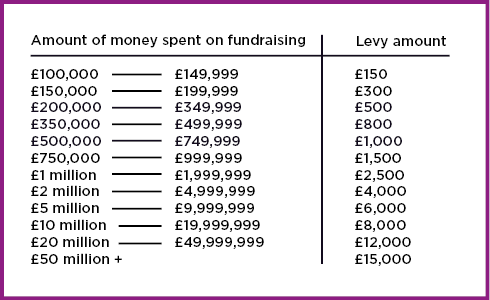 Large higher education institutions pay a flat rate levy of £1,000. 
Fees for arm's-length bodies are dependent on their charitable status. Arms-length bodies that are exempt charities, pay the £1,000 flat rate. Arms-length bodies that are registered charities will pay according to the fees set out above. 
If you think that your charity falls within scope of the levy, please complete the form below. We will look at the information you provide, and other financial information about your charity, in order to assign your charity to the correct levy banding.