For charities spending over £100,000 a year on fundraising, from September 2019 we will:
Continue to base the levy on total fundraising expenditure.
Decide which levy banding a charity falls into based on the information they provided in their most recently filed accounts (previously we used fundraising spend data from 2014 accounts).
Introduce two extra bandings at the lower end of the levy so that smaller charities move up the scale more gradually. Charities with a fundraising spend of £200,000 - £350,000 a year will be asked to pay £500, and charities with a spend of £500,000 - £750,000 will be asked to pay £1,000.
Large higher education institutions and arm's-length bodies will continue to pay a flat rate levy of £1,000. Registration for charities below the levy amount will remain at £50 per year. The costs of registration for non-charities will also stay the same.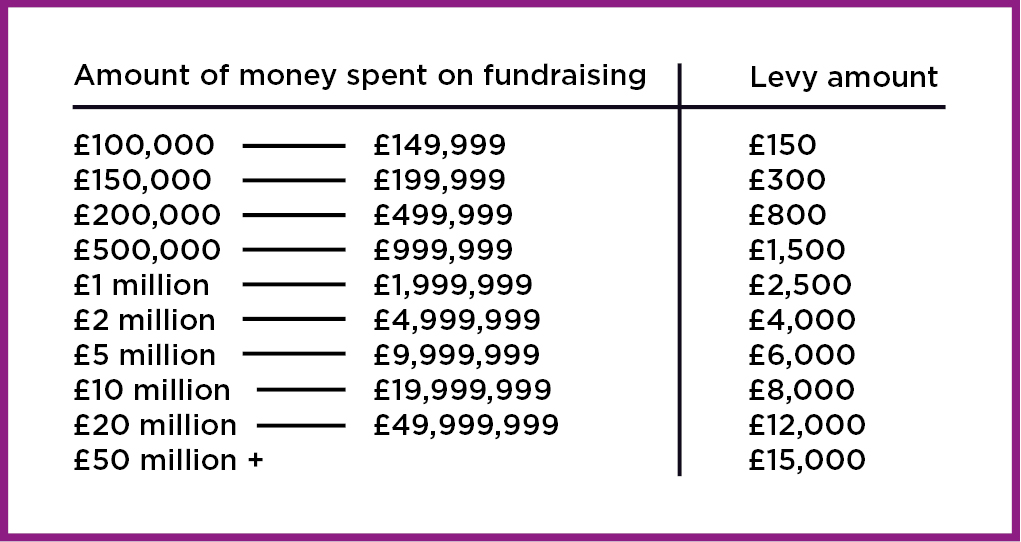 New bands from September 2019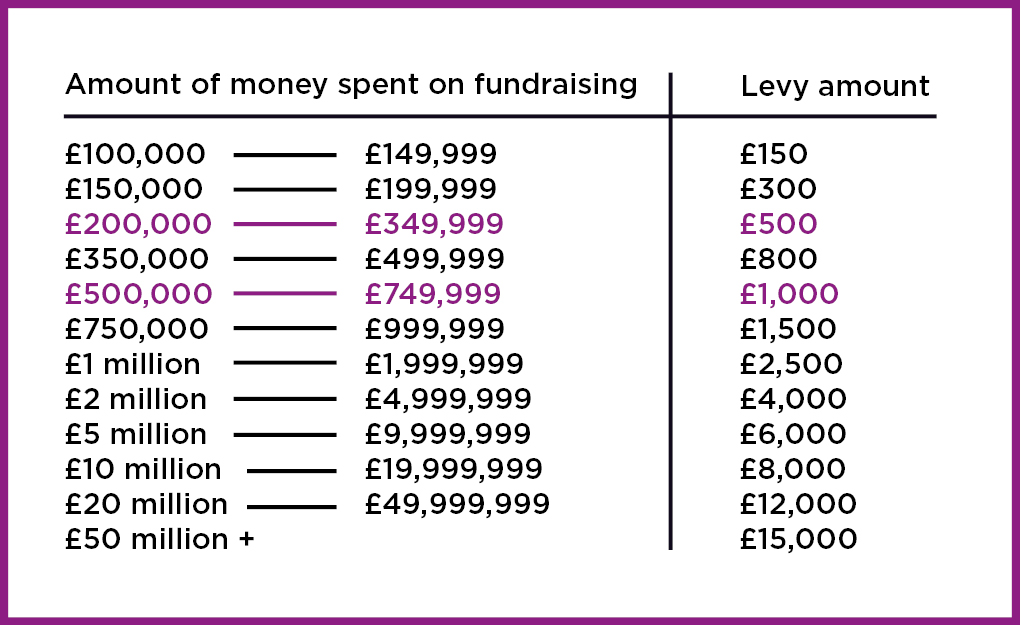 Why have the changes been made?
When we started in 2016, we used the data from the 2014 annual return to the Charity Commission to decide which charities would be asked to pay the fundraising levy. At the time, this was the most recent full set of data available to us.
We'll now base the levy on the most recent information provided to the Charity Commission. This provides a better picture of current fundraising activity.
We're adding two extra bands near the bottom of the levy scale, so that smaller fundraising charities in the levy move up the scale more gradually. This is in response to feedback from smaller charities who found the previous steps too steep.
What difference will this make to the Fundraising Regulator's budget?
We estimate that these changes will increase our annual budget to around £2.2m. This is the minimum that was set out in the cross party review of fundraising and the amount we have always said we need to operate effectively.
The extra funds will help us to do more public research, more proactive work and to increase public awareness of the regulator.
What other options were considered?
We looked at many different options to find the extra funding. We decided against an across-the-board increase in the amounts we ask charities to pay. Instead we'll use the latest financial data to decide on changes to  the levy. We chose the option that we believe has the least impact on charities, and the one that is the fairest.